Before we start talking about the article, do you have any idea, what a marketing executive is?
In order to answer the above mentioned questions, let's see, a marketing executive is a person who makes a profit to the organization and promotes products and services through research and by developing sales and marketing strategies for the company. And this is beneficial for associations as well as every employee.
In this article, we'll help you to know vital information you should have for marketing resume samples & more guides. So let's go ahead with us in this article.
So let's go ahead with us in this article.

Marketing executive summary for resume
Do you know what makes you stand out? Your resume is the key to highlight yourself in order to get any job.
But the main thing which I want to ask you, can you tell me, according to you, what makes your resume attention grabbing?
Don't worry, I will tell you. The main and starting point of our resume is our objective or profile summary statement is the first point that our employers see in our resume. So in short I mean to say is, the content of our resume makes it attention-grabbing.
We all know that recruiters only take a few minutes to read any resume so it is very important to instantly grab the attention of the recruiter. To catch the attention of a recruiter you make use of your marketing executive resume objective and resume summary.
Before writing a resume summary, you should keep the following points in mind as follows.
Your resume summary should be short and in between of 2 to 3 sentences only.
The main thing you should keep in mind, you should write the resume summary top of your resume or below of Basic details.
Your profile resume summary should be in the composition of the previous company's experience and achievement statement.
For example, we have mentioned some profile summary for your resume. You can refer it.
Sample of Marketing Executive Profile Summary -
Ø A challenging and sales marketing position within the organization with 2+ years of experience, personal ability, and a commitment to professionalism.
Ø To bracket me with an organization to prove my 4 years of social marketing executive skills where my skills and knowledge are utilized in the best possible way, which provides me with an opportunity for growth in my career and also contribute to the growth of the organization.
Ø Dynamic marketing executive leader who holds 5 years of experience in distinction planning, supervising & management skills, and strategies business skills.
Ø An enthusiastic marketing executive who commits to high standards of services, performance, integrity, and ready to use my internship project skills and education degree.
Ø I am an energetic marketing executive with more than 8 years of experience having excellent knowledge of creating commercial infrastructures, extensive leadership experience, particularly within a higher education setting goals.
Remember, your marketing executive resume must be highly qualified and classified across all mediums. Because it is the key to show the achievement of marketing efforts is data.
In the above examples of resume summary, we have written a profile summary for senior marketing executive resume which will be helpful for you.
Marketing executive resume for fresher
Now here we are going to talk about resume for marketing executive fresher. So let's start!
Below are some tips for fresher's which will help them at the time of making a marketing executive resume.
The first thing is to choose your resume template. Start applying for your job with a professional resume design.

For a marketing executive profile resume, you should prepare it based on applicant tracking system friendly keywords based resume.

You can easyily find the keywords based on your job descriptions. So make sure to modify your resume to each job you are trying to pass the resume through the ATS system.

The initial most important part of your job application which you can say is the resume or career objective and resume summary. Write down a realistic and forceful Resume Objective and profile resume summary.

Write your professional key resume skills like soft skills, hard skills, accomplishment, and certification if any in marketing.

To get the attention of the employer, first you should highlight your past or current organization roles & responsibilities work

Do not forget to add Other Information Related to the educational details, and skills. With the help of them, you can showcase or create an attention-grabbing job application.
Resume for marketing executive with experience
Here we would see the sample example of a marketing executive résumé with experience, which will help you in creating a resume.
Example 1
Profile summary: Two years of experience in marketing executive profile, specializing in strategic planning and long-term vision with an eye for up and coming trends and new avenues for growth and profit.
Career Objective: To work in a highly ambitious environment with a perfect challenge by subsidizing the best for the growth of the organization while assuring growth in a marketing career.
Profile Role: Market Executive
Work Duration: 01/10/2018 - 01/10/2020
Roles & Responsibilities
Co-ordinate with corporate accounts for Purchase Order, Vendor Account Reconciliation, and payments.

Customer and Employee Satisfaction surveys, Needs Assessment surveys, Market Assessment surveys.

Coordinating with team members and mentoring new joiners.

Ensuring Vertical Check and revenue check as per the project requirement.

Establish and maintain well as well as a positive relationship with customers.

I have handled the tasks of developing team skill sets and, territory management, and presentation skills

Managing the marketing activities within the allocated budget provided at the beginning of the year.
Sales and Marketing executive resume
Now, here I am going to show you another sample of Sales and Marketing executive resume, so that will get a basic idea of the resume,
Example 2: - Sales and Marketing executive resume
Sales and Marketing executive resume
Now, here I am going to show you another sample of Sales and Marketing executive resume, so that will get a basic idea of the resume,
Example 2: - Sales and Marketing executive resume
[Add, here attached resume template]
Conclusion
From this article, we have concluded that, for your marketing résumé, you should put your experience with it graphically. Adding a figure to your job experience is a bullet point and it will help you catch the hiring executives' attention. You shouldn't forget to mention your marketing executive job responsibilities for a resume with the help of your accomplishments.
Additionally, to get a grip on your marketing executive job, it is essential for you to encourage yourself at every stage. And prepare an effective resume to grab the employer's attention.
We hope this article will give you information about Marketing Executive Resume - Sample & Guide in 2020.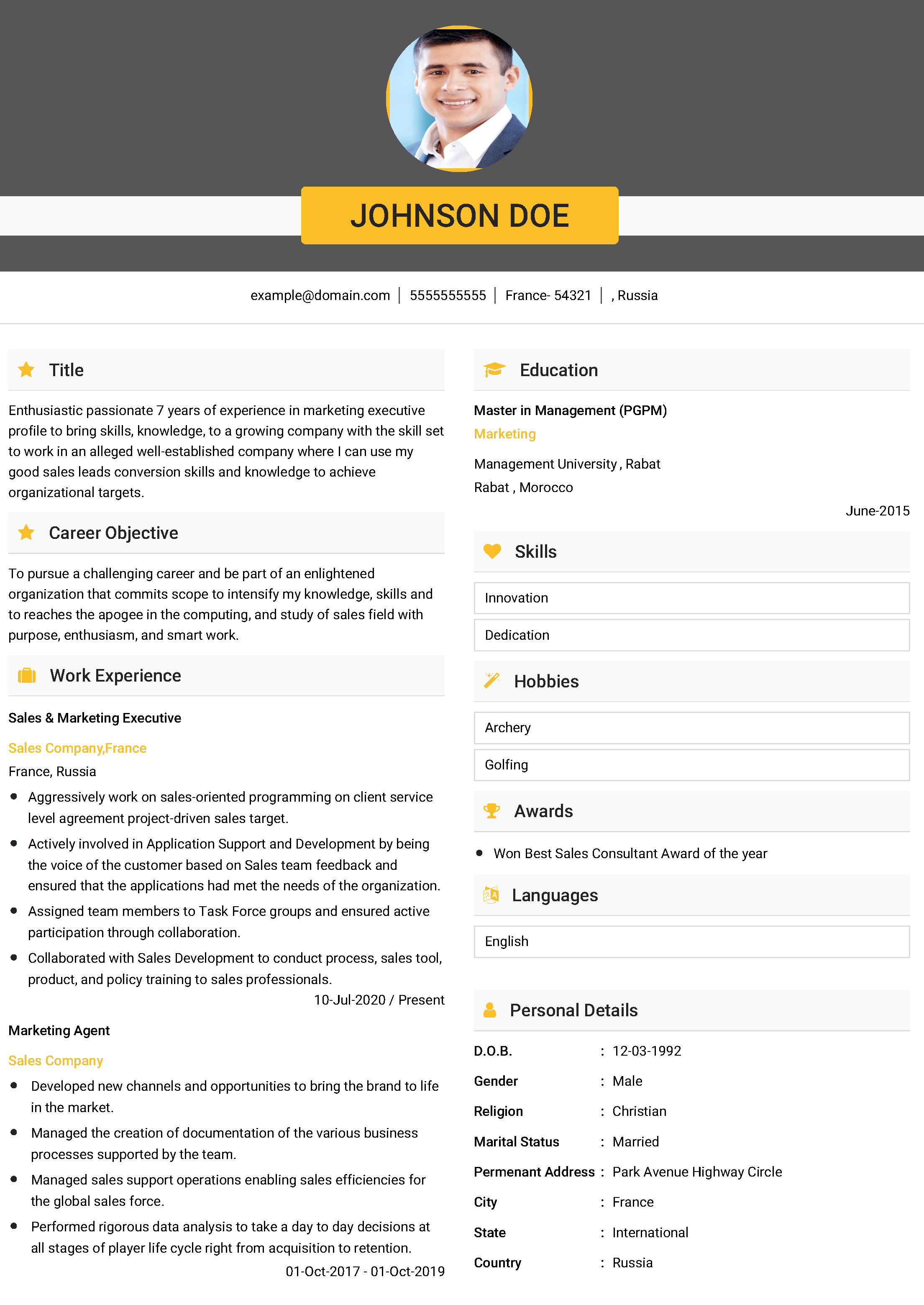 ???????